We offer car rental software which is a simple and innovative online web application software for car rental business owners to manager the vendor , driver , vehicle , reservations , dispatch , billing in one place and make informed decisions anytime anywhere with effectively. The Smarter, Easier, Quicker way of doing Reservation, Dispatch, Billing to Company and Vendor. All happening are just clicks away. The pricing of the application is affordable .
Car Rental Software Features:
Online Car Booking Reservation System B2C for outstation (One Way, Return), Local (Hourly Based), Airport /Railway transfer.
Search Result Page (Information about Car Feature including type and Price End User (Traveler) Details Information Capture
Payment Option / (Net Banking , Debit card and Credit Card online web and mobile payment getaway)
Email / SMS/ Print / option for Booking Details Confirmation
Online cancellation request process for guest (Manual Refund Process)
Booking: Create Booking, Dispatch Booking, Pending Booking Details, Close Booking, Booking Details (Booking Received, Partially Dispatch, Dispatch Slip Created, Partially Closed, Journey Completed, Booking Cancelled, No Show, Complementary)
Billing: Individual , Corporate and Vendor Billing: Generate Corporate Bill, View Corporate Bill, Corporate Dues Reports, Revenue Reports, Generate Vendor Bill, View Vendor Bill, Vendor/Chauffeur Payment
Tariff : for Individual , Corporate and Vendor : Tariff Details, Create Tariff Card, Manage Tariff, Change Tariff Name, Vendor Tariff Details, Create Vendor Tariff Card, Manage Tariff, Change Vendor Tariff Name
Reports: Generate Reports for Duty Register, Bill Cover, Duty Cover Report, Bill Detail Report, City Wise Report, Corporate Report, Vendor Report, Chauffeur Report, Reservation Associates Report, Dispatch Associates Report, Closing Associates Report, Alert Reports [Driver DL expiry and etc.])
Corporate: Corporate Details, Corporate Registration, Sister Corporate Details, Corporate User Details and many more..
Vendor: Manage Vendor, Manage Vehicle, Manage Chauffeur, Manage Chauffeur's Vehicle, Manage Document.
Manager software User, Configure & Setting
Features of Car Booking, Dispatch , Corporate & Vendor Billing Software in details:
Booking

Create Booking
Dispatch Booking
Pending Booking
Close Booking
Booking Details

Corporate Billing

View Bill Details
Generate Cover Note
View Cover Note
Dues Reports
Revenue Reports
Bill Sent Reports

Company Tariff Card

Create Tariff Card
Manage Tariff Card

Vendor Tariff Card

Create Tariff Card
Manage Tariff Card

Vendor Billing

Generate Vendor Bill
View Vendor Bill
Pay Vendor/Chauffeur
Vendor Adjustment

Reports

Duty Register
Bill Cover
Duty Cover Report
Bill Detail Report
City Wise Report
Corporate Report
Vendor Report
Chauffeur Report

Reservation Associates Report
Dispatch Associates Report
Closing Associates Report
Vehicle Report
Booking Type Report
Alert Report
Login Report

Company Management

Corporate Details
Corporate Registration
Sister Corporate Details
Sister Corporate Registration
Corporate User Details
Corporate User Registration
Corporate Working City
Corporate Documents

Vendor Management

Manage Vendor
Manage Vehicle
Manage Chauffeur
Manage Chauffeur/Vehicle
Manage Document
Manage Availability

Configure by Your Usability:

Manager Vehicle Seat
Manage Booking Type
Manage Vehicle Model
Manage Vehicle Group
Vehicle Grouping
Manage City
City Location
Manage City Group
Manage sub users and settings as per working process /Role and City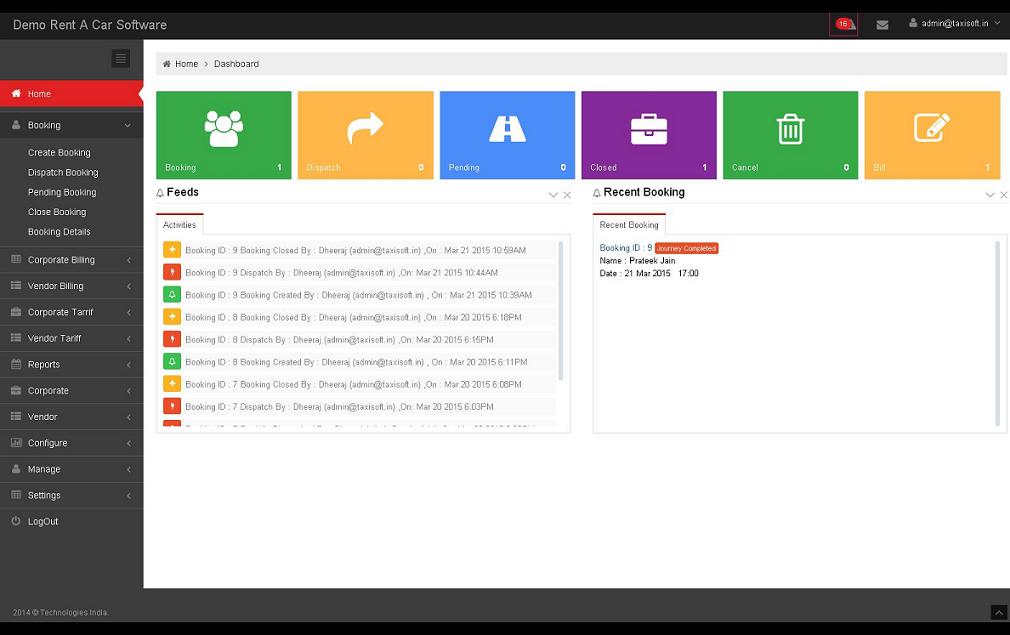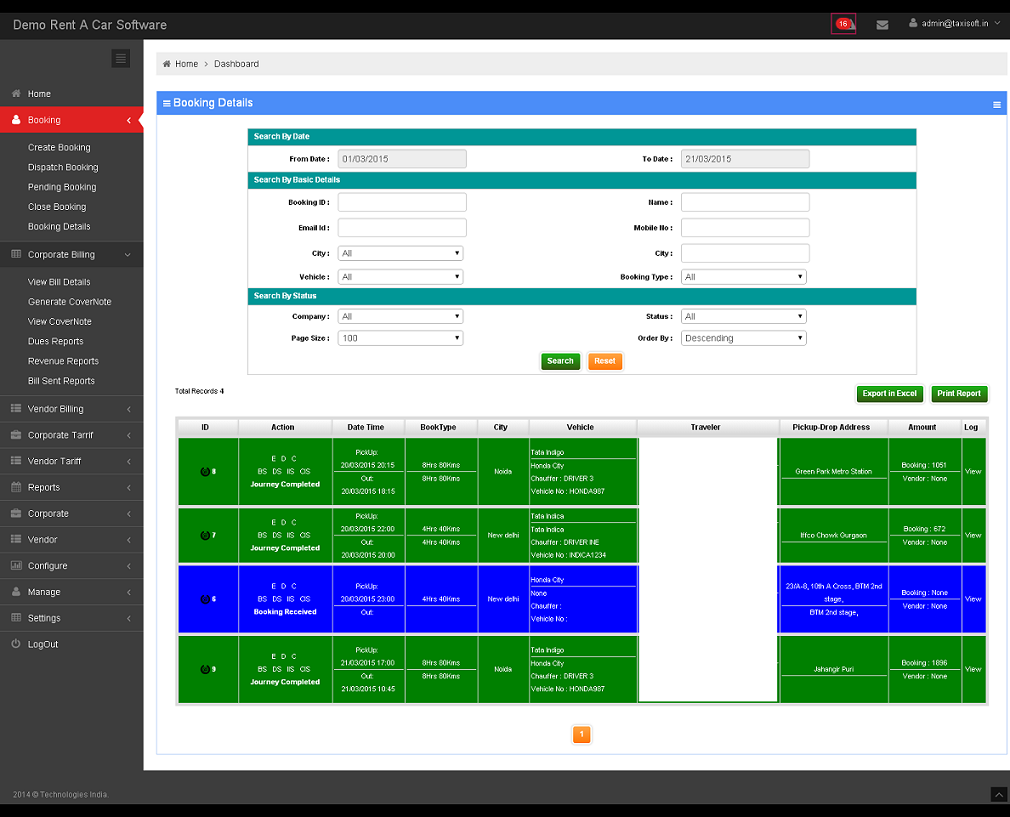 Corporate CAR RENTAL SOFTWARE
This is great sensation to offer you all car rental software with reservation system, dispatch and billing for companies and vendors based and build in latest and secure Microsoft Technologies. Managing Booking request now very easy with Reservation System in Car Rental Software: Very straightforwardly save and filter the booking request details using computer or mobile app. Every reservation team member will have separate login account. System log will provide information which user has create the booking, edited and cancel the booking. You can now offer mobile app and corporate login account to company travel desk for quick reservation process. System allow you to create the booking request as per setting and rules set by the admin.
Bigger Issue has been solved in dispatch process by our car rental software. We have provided the option to dispatch the available vehicle in single click. If you have to hire the vehicle from your supplier then in single click you can send the availability request in supplier mail and mobile, as soon as supplier update the driver and vehicle details these details automatically and manually dispatched as per setting. Submit you details for live demonstration of this process. If you dispatch the vehicle driver will get ring call on his mobile app and sms for new journey with guest details. Guest and travel desktop booker will the driver details. As soon as driver start the journey towards pick up point option to tracking of live vehicle will available guest and travel desk booker. As journey completed the guest, driver offer the mobile for guest initial. As soon as booking or duty closed by driver; system generate the invoice automatically and keep this booking as partial close status. Car rental billing team will have offered to verify all partially closed booking.
Billing Team have option to edit and print the invoice, cover letter, summary, details report and details excel sheet. Using this car rental software, you can generate the bill for your vendors and drivers.
Submit you details for FREE online live Demonstration and trial. Offer all this in just a running cost of per month 5000 INR plus sms charges.
CAB SOFTWARE with DRIVER APP
Which cab service has the better business model, Meru Cabs or Ola Cabs / Uber? Looking to offer something similar or with new concept. Do must call us to see the demonstration and how the system work at driver side and how admin can manage the all stuff easily. We here to offer all this in just a running cost of per month 500 USD plus hosting and sms charges. Submit you details for FREE online live Demonstration
SELF DRIVE CAR RENTAL SOFTWARE
Cool Booking process with instantaneous tariff calculation as per date and time range with vehicle availability information. Submit you details for FREE online live Demonstration and trial.
Offering Online Booking Portal:
Internet Booking engine with Pre designed Template and flow for online reservation (customer)
Real-time availability of vehicles
Manual Dispatch Booking / Dispatch Booking (Automatic thru Vendor APP & Manual)
Booking Details:Booking Received, Dispatch Slip Created, Journey Completed, Booking Cancelled, No Show, Complementary
Blackout management:For those times where demand grows out of control, you can place blackouts to prevent further reservation for certain vehicles at certain locations, to be booked or can allow to booked on higher fare
Order Management System: Order management for request received, Add Vendor, Add Vendor's Car as per vehicle type and feature, Car Tariff, Manage All Booking with customer information (Paid / Unpaid/ Invoicing) as per Booking ID. Email / SMS / Print option for Booking Information of End User for Vendor. Users management option
System Generate Invoice for customer
Coupon Management System: Create coupons, setting campaign start and end dates, Adding to specific trip type with other rules
Calendar Rate Card:choice to create a calendar month / week day's rate code. In the control panel you can make multiple rate codes to make a quote or contract based on calendar month or week days.
Office Address :
TechnologiesIndia.com
7, Millennium business centre,
34 Corner Market,
Malviya Nagar,
New Delhi 110017
Phone : +91-11-40616347

For more Information regarding software visit: Taxi Software